I didn't get to do this Sunday because we received word that papaw had died and none of us were in the mood to celebrate anything.
There's a lot I could say about mom, but words can't describe just what an incredible person she is. I am a lot like her in so many ways and I am proud of that. A great mom isn't definded by a college education, money, a nice home, or how much she buys for her kids. A great mom is defined by how much she loves and cares about her kids, no matter what stupid things they do.
When we're kids we don't put much into what it takes for our parents to raise us. We don't really think about the issues they face and all the ups and downs that come with marriage and children. When we're kids we're just having fun, and our parents have to do all the work. Parents worry for their kids--all they want is for them to be safe and happy and have a good life. That is all mom and dad wanted for us, just to be happy.
In our younger days mom and I clashed quite often. I think maybe mom might have been tougher on me because I was so much like her. The thing is I am so
glad
I am just like her. Even if we did have the gift of going back and changing the past, I wouldn't change anything about my relationship with her because I believe everything happens for a reason. I believe that everything we went through helped build the relationship we have now. And there's no way I'd do anything to change that.
Thanks mom for being you! We love you!!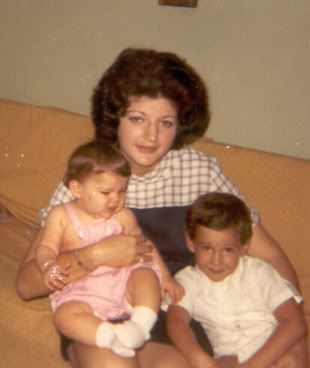 Mom at age 23 with me and David.