Can I just say for the record that it is TERRIBLY annoying when we are are on our way to work in the mornings on rural country roads and some jackass (usually more than one) decides to pass us at intersections, railroad tracks, hills and solid lines! Every single morning we have some redneck asshat (in the occasional car but usually in pickup trucks with either the #3 or #8 plastered on back or a stenciled buck on their back windshield) who in such a hurry because he didn't leave early enough. So he passes every vehicle in sight, and where does he wind up? Stuck at the next intersection behind a line of cars.
And what's worse than that is having said asshats tailing you on the entrance ramp to the interstate or trying to go around you when you're attempting to merge into interstate traffic.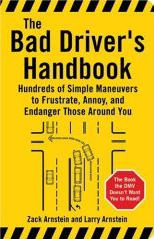 Can you believe there's actually a book to help people drive like idiots? Trust me, I know the folks who piss me off every morning don't use a manual, I'd be very surprised if any of them could actually
read
one.
And while I'm having to deal with all these jerks, DH is in the passenger seat hollering that I should be giving "brake checks" to the guys who tail me. Uh-hello? I don't do brake checks at high speeds, hell I try not to do them anymore period. I have told him this over and over again and he isn't grasping it. I'm driving, I do what I think is safe. Even if it's at a slow speed, I don't do brake checks because I don't want some guy hitting us from behind. And imagine touching your brakes lightly at high speed and soem guy being too close. You can get yourself killed. And then there's the guys on the road who like to carry guns and shoot people who piss them off. I don't want to mess with some redneck whose going to pull out a gun and shoot us. I used to do brake checks but I don't do them anymore. But I do slow down just a tad bit, but not enough to cause an accident.
DH doesn't seem to grasp my mode of thinking. He thinks I am letting these people bully me by letting them tailgate me. I think I am doing the smart thing and not lowering myself to their stupidity. I say to DH I'm tired of hearing it and he says "because you know I'm right".
Yeah, uh-huh,
that's
it.